BOOKS. I love books.
I firmly believe that if I wasn't a reader, I might not be a traveler. I might not even be a writer. Before I read the newspaper, I read books. Before I boarded my first plane, I read about places I'd never heard of, places that didn't exist outside of an author's imagination.
I had a creative writing professor who insisted that to be a writer, you had to be a reader. This is a great excuse to shirk off and read when you've got writer's block, but it's also solid advice. I always find writing easier when I'm reading a page-turner in my free time.
No matter how old you are, reading opens up new ways of thinking. It introduces you to countries you might otherwise never have considered visiting. It makes you believe that girl detectives can solve the case, great glass elevators can soar into the sky, and somewhere in space, a little prince is sweeping dust off the moon.
Reading fostered a wanderlust in me that will never go away, but some books have had more of an impact than others.
These books aren't travel books by category. Some are aimed for children, some for adults. But if you're looking for a little inspiration, it doesn't matter how old you are. Here are my favorites:
The Little House series, by Laura Ingalls Wilder
Laura Ingalls was a pioneering pioneer. Literally.
I was gripped by her story – a girl my age who traveled across the country in a covered wagon? Whose father built every home from scratch? I didn't even know what a locust was until the Ingalls' crops were consumed by them. I envied her and pitied her at the same time. Sure, I wanted to know what that maple candy tasted like, but I didn't want my Pa to be gone all winter to get one. I wanted to go swimming in a secluded pond, but I didn't want my blood sucked by leeches.
Basically, I wanted to be Laura but I was glad I wasn't.
Dominic, by William Steig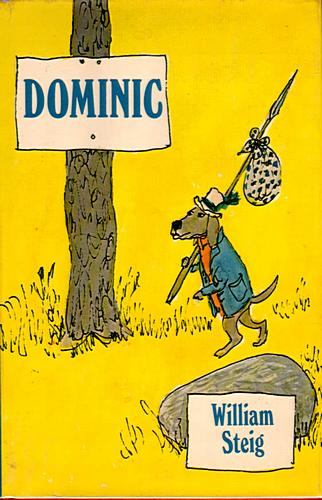 This book might be the best children's book ever written.
It's about a dog with a piccolo who packs his stuff in a handkerchief, ties it to a stick, and goes out for an adventure. (Just go with it. Kids do.) He pretty much learns the  meaning of life through travel. Take this excerpt, for example:
He had to cry. Life was suddenly too sad. And yet it was beautiful. The beauty was dimmed when the sadness welled up. And the beauty would be there again when the sadness went. So the beauty and sadness belonged together somehow, though they were not the same at all.
See? Meaning of life. Practically.
I re-discovered Dominic a few years back and it was even better than I remembered. In fact, I wish I had it right now.
A Wrinkle In Time, by Madeleine L'Engle
Apparently, all you need is a tesseract and travel is a snap. The trouble is locating said tesseract and subsequently working out how to use it.
I vividly remember reading this book in the lunchroom after school, waiting for my bus to come. It was chaos: backpacks everywhere, students shouting, teachers shaking their fingers, but all I could do was stick my nose deeper into the book. It's a science fantasy, which has never been my genre of choice, but I was lost in the story of these kids who traveled to different planets and met mystical beings. It made me think and it made me curious, two attributes that come up again and again while I'm traveling.
Roald Dahl (Anything by this author.)
Take your pick: James and the Giant Peach, Charlie and the Chocolate Factory, The Witches, Matilda, The BFG…I could go on. Roald Dahl championed the underdog. He introduced me to a new kind of humor. It was crude, witty, and undeniably funny. His books made me want to go to England. They also made me wish fervently for chocolate rivers and telekinetic powers, but we can't always get what we want, can we?
The Phantom Tollbooth, by Norton Juster
My sixth grade class staged a three-act play of The Phantom Tollbooth. I was Tock, the giant dog with a clock embedded into his side (He was a watchdog. If you don't get it I can't explain it to you.) The play didn't do the book justice. Sadly, neither did my performance.
The book unfolds like a puzzle. Milo is a sullen, constantly-bored boy who is not unlike many of my current students. He gets a magical tollbooth and gets to have an enviable adventure through fictional lands. There are so many odd characters, it's not too far from what it's like to travel in real life. But good luck finding Dictionopolis on a map.
The Secret Garden, by Frances Hodgson Burnett
Oh, The Secret Garden. It made me want to go to India and England at the same time. Mary, the spoiled rich girl of a protagonist, bossed her ayah all over India, only to wind up alone in a drafty old English manor with a couple of stuck-up old people and a moaning invalid. It warms my heart just thinking about it.
Now for the grown-up books.
Beach Music, by Pat Conroy
Pat Conroy might just be my favorite author, but when I first started Beach Music, I struggled. Once I was 50 pages in, I decided it was the best book I had ever read. It's about a man who lives in Italy with his daughter, but eventually returns to his native South Carolina on a quest into his past. It's about the holocaust, sea turtles, Vietnam, love, loss and rediscovery. Maybe that's why Amazon calls it a 'family saga.'
Wild Swans, by Jung Chang
Jung Chang's epic family history chronicles the life of her mother and grandmother, then shifts into an autobiography. It is the single most stunning and informative book I've ever read about China, from bound feet through the cultural revolution up until the late '80s. Wild Swans was actually banned in mainland China – it might still be today. Although I can never understand what it is like to grow up Chinese, the book absolutely floored me with the descriptions of life over the years. I would recommend this to anyone who is going to China, has been to China, or has even heard of China. So, yeah. I think that's about everyone.
Undress Me in the Temple of Heaven, by Susan Jane Gilman
In stark contrast to Chang's Wild Swans, this is an account of a New Yorker who traveled through China in the '80s, right when it first opened up to tourists. Gilman is the writer I wish I could be – smart, honest and funny. No, funny isn't the right word.
Hilarious. Laugh-out-loud, The Bloggess-hilarious.
The trip unravels pretty quickly as her travel companion takes a turn for the crazy. It reminded me of my early backpacking days, when everything was exciting and nerve-wracking. It motivates me to plan future trips that put me in the realm of the unfamiliar and slightly frightening, though minus the weird friend.
The Poisonwood Bible, by Barbara Kingsolver
Sometimes it's timing that makes a book really resonate with you. It was this way for me and Poisonwood Bible. I was between travels and trying to figure out what to do with my life when I picked up this story of a Baptist preacher and his family in the Belgian Congo. After reading it, I felt like I had been to Africa, where someone had torn out my heart and stomped on it.
In a good way.
It's a wholly satisfying read, even if it leads to a few tears. Or, if you're like me, a barrage of snot-driven, sniffling tears. Again, in a good way.
The Thorn Birds, by Colleen McCullough

I never thought much of The Thorn Birds because I thought it was mainly a cheesy miniseries based on some long-forgotten book.
But when we lived with Jared's parents, there was a copy of it on the bookshelf, so I picked it up.
And, whoa. I see what all the fuss was about. It was like Little House on the Prairie for grown-ups, set in the Australian outback, with forbidden love thrown in the mix. It was what the movie Australia should have been, because it invokes the same kind of beauty and challenges associated with the outback, but with a more engaging storyline.
Do yourself a massive favor and do not rent the miniseries after reading the book, unless you want to be sorely disappointed.
A Fine Balance, by Rohinton Mistry
This book is tragic. There's no other word for it.
But it's such worthwhile tragedy.
I first read it as a college student because it was on the "Oprah's book club" shelf at the library. I knew nothing about India besides what I'd learned from reading The Secret Garden, so I was completely unprepared for this story. It follows four strangers during India's State of Emergency in 1975, and Mistry wrote about a snapshot of life that I couldn't believe was real. The thought of going to India both excited and terrified me.
Ten years later, I am about to visit India for the first time. As part of the build-up to January, I read the book again. I'm still not sure whether or not it was a mistake, just as I'm not sure how a place so sad can manage to be so beautiful at the same time.
Maybe I should ask Dominic.
Honorable Mentions
Travels, by Michael Crichton: Yeah, that Michael Crichton. He writes a mean travel book.
Anything by Maeve Binchy: Her depictions of Ireland feel so real, I think I learned more about the country from her books than from being there.
Misty of Chincoteague, by Marguerite Henry: I read this book about a pony and insisted that my parents plan our next family vacation to Chincoteague Island, off the coast of Virginia, so I could see Misty in all her taxidermied glory. And yes, it was as creepy as it sounds.
I'm always looking for new travel reads, so please pass on any recommendations of your own!